The finish line is the same for each event: Marathon, Half Marathon, 10K, and 5K. The 1 mile and 0.2 mile events will start near the finish line of the other events.
Marathon
The start is at Hilltop Rd. at the top of the Buckskin Saddle. Click for a map of the certified course. Times on this course can be used as qualifying times for Boston and New York Marathons.
The elevation drop over the entire course is approximately 1,550 feet. The first half drops approximately 1,400 feet, and then the second half only drops about 150 feet. Don't go out too fast during the first half of the course, your quadriceps will be very unhappy and they will let you know it late in the race. Pace yourself during the first half and make sure to do some downhill training if possible.
Half Marathon – 10K
The half marathon start is at the north end of Inkom Road. It is the second half of the marathon course. It has two medium hills but drops about 150 feet in elevation from start to finish.
The 10K start is on Old Highway 91 just before the Gap – near W Blackrock Road. It is also mile 20 of the marathon. The course has one medium up-hill near the start but overall drops about 50 feet in elevation.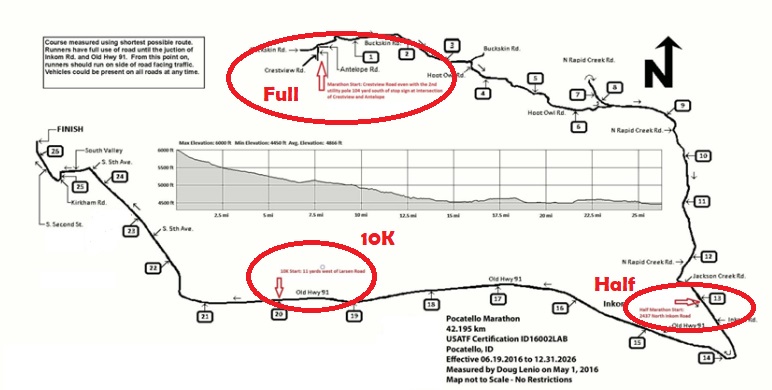 5K
The 5k start is at the north end of Ross Park South 2nd Avenue. This course follows the AMI/Kirkham Trail.