If you are flying into Salt Lake City, UT, please support our event transportation sponsor!
Use Promo Code POCAMARATHON for a $5.00 discount (valid through December 31, 2019) on Salt Lake Express!
Click on the Salt Lake Express logo below to schedule your transportation needs today.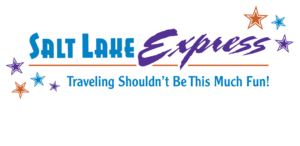 "We run 20 daily shuttles between Salt Lake City and Southeast Idaho. We also serve from Great Falls, MT  to Las Vegas, NV with places in between!"
---
How about leaving all your travel plans to Sunrise Travel?
Contact Holley Henderson (holley@sunrisetravel.biz) at Sunrise Travel to put together your Pocatello Marathon travel plans – you still have to run the miles though!
2761 Pole Line Rd
Pocatello, Idaho 83201
208-234-2386
http://www.gosunrisetravel.com
Click on the Sunrise Travel logo below to plan your travel for the Pocatello Marathon!