The Pocatello marathon has a lot to offer from the serious marathoner to the novice. Here are just a few reasons to join the fun in Pocatello Idaho this Labor Day weekend.
With the perks of a big race but the personal touches of a small race, The Pocatello marathon continues to receive great reviews from experienced marathoners. This is the 19th year of the Pocatello marathon. It is well organized, a lot of swag and friendly aid stations. The aid stations have it all from the standard water, Powerade, band-aids, oranges and bananas to the extras like PowerBar energy gel, Vaseline, ibuprofen and hard candy.
More than just a Marathon…
The night before the Pocatello marathon there is a pasta dinner with an inspirational speech by Tyson Gunter. Tyson Gunter is an elite Para-Track and Field athlete who is gone to the Paralympics' in Rio and the Track and Field World Championships.
You also won't want to miss the party at the finish line. The marathon, half marathon, 10k, 5k and 1 mile and for kids "2" 0.2-mile events all finish at the same location. The finish line party is called Marafest and includes free showers, massages, delicious food, kid activities and award ceremony. And did I mention a FREE beer? Yes, that is right each participant will receive a free beer at the finish line.
"I've done races all over the country and the world, but this had to be the best post-race food spread I have ever seen. I think my new post-race food of choice is now baked potatoes!" from T-Rex Runner http://womensrunning.competitor.com/2016/09/t-rex-runner/idaho-race-exactly-what-expected_65254
"I highly recommend this race! Great swag, pasta dinner, and post-race food." From N.K. http://www.marathonguide.com/races/racedetails.cfm?MIDD=1549180901
The Pocatello marathon is known for it's downhill with approximately 1,550 feet elevation drop for the entire course with 1,440 feet drop in the first half. This is a great race to shoot for PR (Personal Record).
The elevation drop at the beginning of the Pocatello Marathon is due to the course winding through the mountains just to the South of town. It offers a beautiful backdrop as the marathon kicks off, the sun rises and casts its glow on the runners and surrounding mountains.
Boston and New York Marathon qualifier
Is it your dream to run in the Boston or New York Marathon? In order to even submit an application for these famous marathon's, you have to meet or beat the qualifying times on a certified course. Pocatello is USA T&F certified  (Certification Number: ID16002LAB ) and can be used as your qualifying time.
For Boston Marathon qualifying times see  http://www.baa.org/races/boston-marathon/participant-information/qualifying.aspx
For New York Marathon qualifying times see https://www.tcsnycmarathon.org/plan-your-race/run-in-2018/2018-time-qualifying-standards
Pocatello, the town, and its people….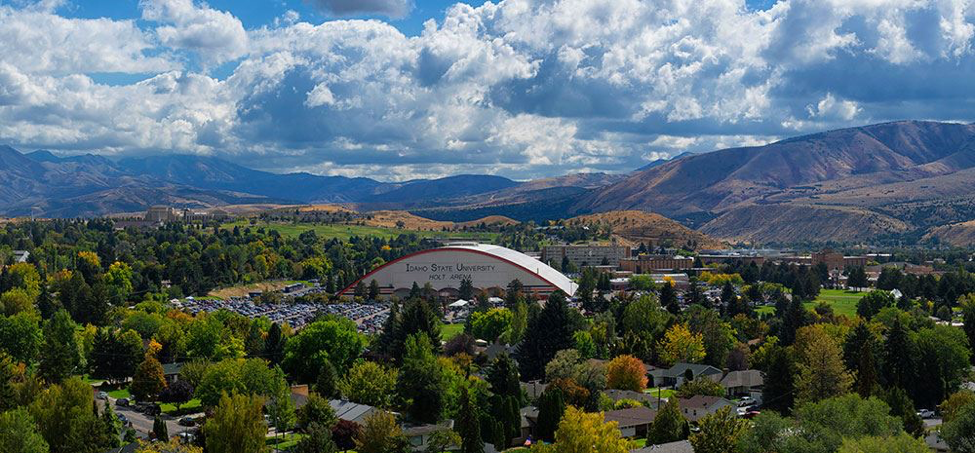 Pocatello is called the smile capital for good reason, one because people are just nice and second because in 1948 Mayor George Phillips passed an ordinance making it illegal not to smile J Pocatello has much more to offer than just smiles, there is a great Old Town area with specialty shops, antique stores, bakeries, galleries, restaurants, breweries and a farmers market all set in historic buildings that date back to the late 1800's.
Come see why Pocatello has received these awards:
Pocatello has been on the Forbes "Best Small Place for Business" 6 years in a row
Most recently Pocatello was ranked 2nd on Forbes Cost of Doing Business index.
Ranked 1 of the top 10 small places to move and raise a family according to Primary Relocation and World ERC.
One of the top cities in the US to retire by AARP
One of the Best Small Cities in America by NerdWallet.
Rich history
"Pocatello" received its name after the Shoshone Indian Tribe chief who granted the railroad a right-of-way through the Fort Hall Indian Reservation. Fort Hall was established in 1834 as a settlement, trading post, and supply point for the Oregon Trail. You can tour a replica of Fort Hall just North of Pocatello to learn more about the areas rich history. http://www.forthall.net/
Pocatello is rich in natural resources and agriculture including potatoes, grain, and other crops. But the potato receives all the attention around here. Pocatello was the location for The Great Food Truck Race called "Pocatello is All About Potatoes, You Dig?"  If you missed it then check it out https://www.youtube.com/watch?v=A9ISBeAzaUc
You can also visit the Idaho Potato Museum and take your picture by the big baked potato. http://idahopotatomuseum.com/
Who would think that a museum about cleaning would be so interesting but Trip Advisor reviewers give this museum 4.5 stars! http://museumofclean.com.s158603.gridserver.com/
Soothe sore muscles…and have a little fun
Lava Hot Springs is a short drive away from Pocatello offering five outdoor gravel/rock bottom pools, an Olympic size swimming pool, and sunken gardens. The hot springs are rich in minerals and great for sore muscles, the nice feature is they have no sulfur and therefore no bad odor. The Olympic size pool also has water slides for great family fun. https://lavahotsprings.com/
Just above the hot pools is the Sunken Gardens, which is a collection of native and imported plants and flowers set amongst rock walls. The walls look like lava but are actually the remains of an algae reef formed in the Portneuf river a long time ago. The gardens are free and a great way to relax and enjoy the beauty of nature. https://lavahotsprings.com/sunken-gardens/
The Pocatello marathon is the Saturday before Labor Day. What better way to burn a ton of calories in preparation for the Labor Day celebrations.
These are just some of the reasons to join the Pocatello marathon. Send us your reasons at Pocatello marathon Facebook page at https://www.facebook.com/runningthegap/